Destiny Falls Mystery & Magic Book 3
By Elizabeth Pantley
Fiction/Fantasy/Mystery
Kimber here, ears pricked. Alert. Scanning and sniffing everything that moves. And quite a few things that don't. Cuz weird noises are coming from the study:
"Aaaarg!" Pause. "Double aaaaarg!"
Wait. Is there a Pirate Convention going on in Mom's study and no one told me? Shall I dial 9-1-1? Call Peter Pan? Or morph into my usual, every day Kimber the Amazingly Awesome and Super Duper Walks-on-Water Wonder Worker mode?
Hang on, Toots. Deep breaths. There ya go. Okay, Mom. Now. Tell me what all the ruckus is about.
"Kimber, I just finished the most fascinating, fun book! It's number three in the Destiny Falls Mystery and Magic series. And I'm dying to know what happens next!
Can we kindly avoid the word "dying" in conjunction with a cliffhanger ending? As in, "The end… for now"?
The Backstory…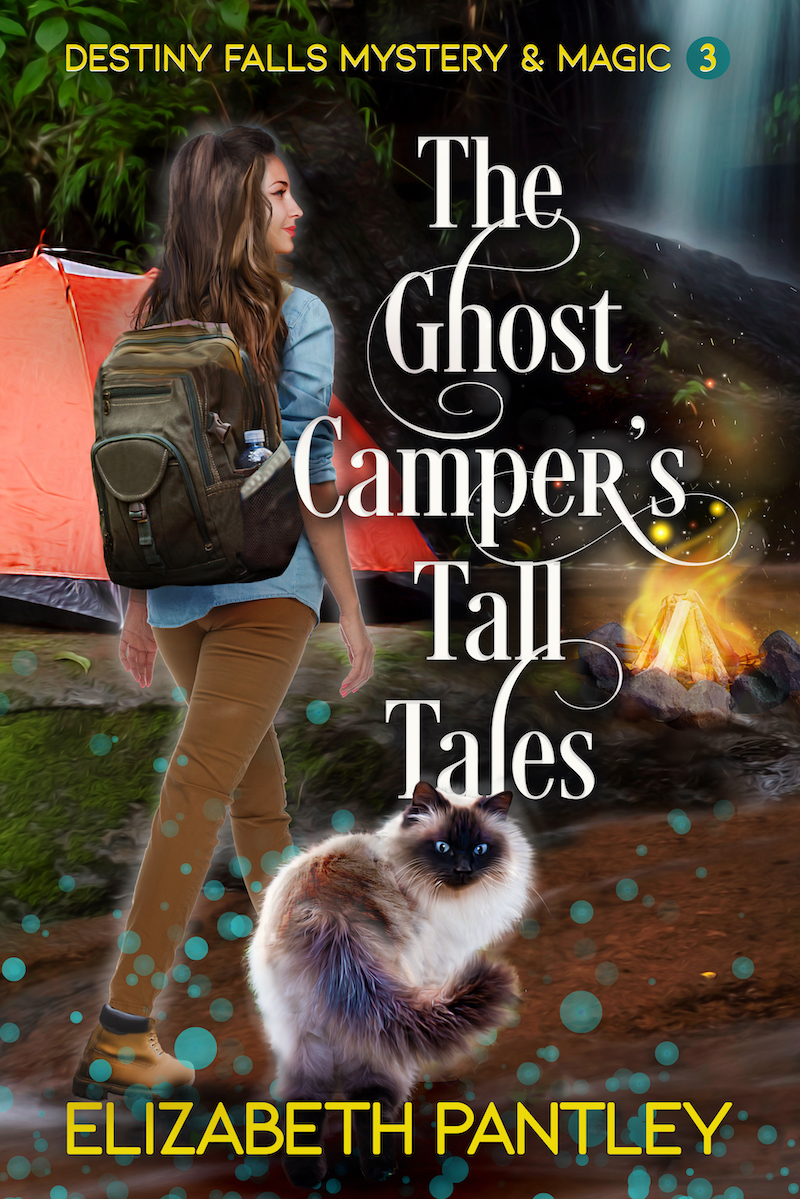 Maybe it's the wise-cracking Himalayan cat, Latifa. The crackling dialogue and snappy repartee between characters. The lush, enchanting setting of Destiny Falls. The ebullient master chef "Bear." A "mysterious and sinister island." The clever weft of mystery, family, intrigue, and magic. Romance and wry wit. "Explosions of creative expression." Or Kimber's fave: A "massive Saarloos wolfdog, Hercules." (You knew that was coming, right, Snookums?)
Whatever it is, this book is a howl and a half!
Masterful storytelling, prodigious world-building skills and memorable characters propel the imaginative, engaging plots in all of the Destiny Falls books. (Read our review of Book 1, Falling Into Magic, here.  Our review of Book 2, The Disappearance of Emily, can be found here.) Just when you think the stories can't get any more sassy or spunky, author Elizabeth Pantley offers The Ghost Camper's Tall Tales.
It's a storytelling hat trick.
Cuz the latest installment of mystery and magic and all things Caldwell and Gladstone has as much umph as the prior books. Maybe even more. Spelled: So. Much. Fun!
The Basics
When Hayden and her friend Olivia stumble upon a dead body, something doesn't add up.
Intrigue abounds as Hayden, the new editor of the Destiny Falls Observer and member of DF's first fam, the Caldwells, starts digging.
Hayden's soon on the trail of a "magically tainted murder case" while someone else is trailing Hayden.
Uh-oh. And what about her relationship with the hunky James Bond-ish Han of DF "Special Forces"? Will they ever solve the case so they can move on with their personal lives? How 'bout the mysterious letter from her missing mother who's imprisoned on an evil island? Will Hayden ever find her and reunite? How? Who was really in that exploding police car?
There's also an illegal ferry scheme. Underground meetings and a sinister, shadowy "commander" who seems to be orchestrating everything evil and eerie. Can Hayden locate and expose him before it's too late? And who or what is "Lazarus"?
There's also Gaspar the friendly camping ghost and "Once upon a time, many centuries ago, there was a king… who had three daughters…"
Oh, wait. We're getting ahead of ourselves.
Bottom Line
Captivating and delightful, this rich read is as warm as a "Bear" hug and as sparkly as Cleobella's next ensemble. Indeed, The Ghost Camper's Tall Tales is So. Darn. Clever. It'll keep you on your toes – hopping and guessing – until the final pages.
Bonus points: Kimber enjoyed Latifa so much, she nominated the Himalayan fluff ball for honorary membership into the Secret Canine Society (SCS). It just doesn't get any better than that!
This one's a keeper!
Our Rating: 5.0