PAWright historical fiction fans! Grab the bacon and buckle up. Cuz we're ready to launch into that genre with 6 Pawsome titles you'll want to dig up, pronto!
Yes siree, Lassie! Mom and I are hosting a guest post on the subject from a promising new author, John Lawrence.
John's memoir about his medical training, Playing Doctor: Part One-Medical School (Stumbling through with Amnesia) debuts on August 24. He's also an avid reader with a taste for historical fiction. (More about John in a min. So kindly keep your tail tucked, okay?)
Anyway, John says during medical school and his residency years, the escape historical fiction provided was a "much loved respite from my otherwise fluorescently lit, fast-paced reality of medical school." John adds:
"After not sleeping for 40 hours, to fall back on a couch, tea in hand (usually after my dog stole my sandwich), and lose myself in Scotland, the Levant, Sparta, Rome, Ireland…Ahhh, those were the glorious journeys that helped me survive."
There are many historical fiction books I enjoy, but to qualify for this list means I've read them at least three or more times…"
Jump into these six PAWsome Historical Fiction Re-Readables Recommended by John: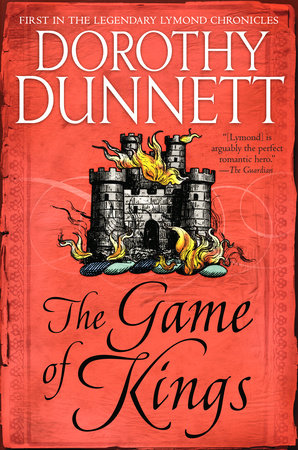 1. The Lymond Chronicles – Dorothy Dunnett (OBE)
I am completely envious of anyone setting off with Lymond for the first time— a fine compliment and recommendation. That said, only one in ten people to whom I have gifted Game of Kings (the first book in the series) actually finishes the book. Not a great recommendation! But, to those readers seduced into Lymond's world, those readers become similarly obsessed by Dorothy Dunnett's gorgeous storytelling, and Maeve, she does love her characters, flaws (many) and all.
To give you an idea of the obsession, I was introduced to the Lymond Chronicles by a married couple, one an orthopedic resident, the other an English teacher; they fought so much over who got to read the book each night, that during one especially feisty evening, they tore the book in half so they could both keep reading.
An intimate and personal story of Lymond, a murderous, Scot, accused of treason, with a wit sharper than any sword edge, whose story overlaps the author's deep dive into the 16th century European politics, balanced with intense character drama, glorious twisting and tumultuous plots—say goodbye to friends and family as you set out on this epic rollicking adventure of redemption, lust for power, vengeance, romance, court intrigue, and family feuding.
If there is a criticism, there can be lengthy passages of court descriptions, which don't leave much to glean on re-reads. But the world creation and specificity, the set-ups and pay-offs, are a lesson for writers in any genre.
2.House of Niccolo (Dorothy Dunnett)
The series is a prequel of sorts to Lymond. Niccolo is yet another flawed character, a happy go-lucky, big-hearted, apprentice in the dye-yards of Bruges who schemes and sleeps and fights his way to ruling a mighty mercantile empire. The romantic adventures travel from Bruges through Europe, Africa, Russia, and the Levant in the 15th century.
Dunnett fans, myself included, will debate back and forth which is the better series. My answer? Both. Whichever one you are reading at the time. I wish I was Lymond, I want to be Niccolo, despite which, so often, you just want someone to throttle them!
3. Gates of Fire—Steven Pressfield
How do you take perhaps the most famous battle in history and turn it into a gut wrenching, romance, brother-in-arms tale that leaves grown men weeping on each re-read? You start with Steven Pressfield (The War of Art) and let him take you into the heart and soul of a slave indoctrinated into the Spartan culture; who grows and fights with their boys; who stands in the lines at Thermopylae with the men he respects…you almost wish you too were there.
It's not a glorification of war by any means, but a hopeless mission as several thousand Greeks stand against hundreds of thousands, perhaps millions, marching in the Persian army to destroy Greece. But really, it's an intimate story of the characters that honored their training and duty to their country and to each other.
4. Trinity – Leon Uris certainly writes with enjoyable bias. Trinity was my first Uris novel and still my only re-read of his. In a time when we live in a country divided, a state of being that leaves us weaker than we should be, it's a good time to dive into this re-telling of the Irish history that leads to the division we now know. Another loveable hero, doing his best against a continuous flow of angst and tension and mean-spirited antagonists hell bent on a conspiracy to rule by division.
5.The Warlord Chronicles (Bernard Cornwell) While I enjoy his Saxon Tales series (now on Netflix), it is the Warlord Chronicles, the trilogy of King Arthur told from the point of view of Derfel, a boy that falls under the spell of Arthur and grows to become a Knight, that I have re-read the most. Cornwell's historical adventures and narrative voice could easily overlap from one series to the next.
What these tales of Arthur (first book: The Winter King) have is what I would call in the film world, the most re-watchable scenes…there are a few moments that I could read over and over (and would not give away)…magical moments, tragic moments, heroic moments or even just a line delivered, that makes the whole adventure glimmer. The adventures are grand, the characters known to us…but oh, when that bone snaps and world's shift…the emotional stakes run higher here, for me, than in Cornwell's other wonderful adventures..
6. King Hereafter (Dorothy Dunnett), this time a stand alone retelling of the story of Macbeth, you know part of the story, but go along with her deeply researched book to get the true story of the man, helped by many women in his life, to move beyond his pagan, Viking heritage to become the king who unites Scotland for the first time. A dense, DENSE book, but after re-reading many times, the underlying adventure shines through on every page and the last quarter leaves you breathless.
The worlds, religious and court intrigue, witty dialogue, slow burn of love, transformation of a Viking boy into a leader uniting disparate lands against the might of two empires, and the sheer, non-stop action that finishes this book makes it one of the greats that has only improved with each of my five reads.
About John
John Lawrence is the author of Playing Doctor: Part One-Medical School (Stumbling through with Amnesia). It's a memoir of medical training as interpreted by him—"not that medical schools want you believing their training was interpretive, like a modern dance company's version of Grey's Anatomy," says John. "But I would hope you find it entertaining, heartfelt and a demystification of medical school via the confusion and chaos that seemed to litter my medical trail."
John has been a river rafting guide, ski race coach, bagel baker, medical doctor, screenwriter, film director, expedition doctor climbing Kilimanjaro with his close friend, Chris Waddell, the first paraplegic to summit Kilimanjaro un-assisted. John received his medical degree from the University of Utah, where he completed his residency training. He received a B.A. from Georgetown University where he did not take a single pre-med class.
When he's not writing, John loves biking, skiing and running with friends and family in Utah where he and his family live with their many dogs.
Playing Doctor is his first book. Catch our review on August 29!
***
Want to be a guest author or submit your book for an honest review?
Find out more about how we roll by reading this first:
Cheers!