Woof-hoo! It's summer time, summer time, sum-sum, summer time! Doo-whop, doo-whop.
Kimber here. Mom and I are celebrating the First Week of Summer with something a little special. I was lobbying for filet mignon. But nooooo! Mom decided on a quick run-down on recently read titles. To save you some time. So you can avoid the clunkers. And enjoy the goodies.
And hey. What's summer without baseball, right? So I suggested we categorize titles as either Hits and Misses or as Strike Outs and Home Runs. Brilliant huh? (Mom helped a little. But it was mostly me.)
So here are five kinds of each book. Five duds. As in, swing-from-the-heels strike-outs and don't waste your time. Five awesome-dawsome, tail-wagging, bonafide home runs. (One is somewhere in the middle, depending on which bat you choose.)
So… batter up!
Strike Outs
1.The Far Country (BooksGoSocial, 2020)
By Terri Buckingham
Unintelligible
Reading this book's description on Net Galley, we expected something along the lines of "This Present Darkness." This pile of horse hooey isn't even close.
Bizarre and meandering, most of the text is a pedantic lecture from a badly misdrawn caricature of the nature and person of God as revealed in Scripture. Waffling and capricious, the "god" in this book is limited by human choices. He's also pompous. And "snarky." The host of an "invitation-only club" based on works. And you have to earn His favor. In case you were wondering.
Can't remember the last time we read anything this lousy. As in, dull as a box of rocks and twice as dense.
Don't waste your time. (So bad, we're not even going to score it.)
2.Olive , Again (Random House, 2019)
By Elizabeth Strout, 2019
Adult Fiction
This ain't gonna be a popular opinion. But Mom and I don't care. Our blog. Our rules. Our opinions.
So. If you like soap operas and random, haphazard characters tossed into a random, haphazard plot like paint thrown on an easel – if you can call it that – you'll love Olive, Again.
Yes, this book has moments of lucidity and levity as it chronicles Olive's journey into old age through two husbands, a son in New York, grandkids and… a bunch of other marginally relevant bunny trails. But it's mostly just tiresome and nuttering.
The final page of this clunker couldn't come too soon.
3.Keep This to Yourself (Albert Whitman & Company, 2019)
By Tom Ryan
YA Fiction
A serial killer strikes at a coastal town and 18 y.o. Mac tries to solve the Whodunit… or … something. Even with a plot as dense as a pea soup fog, we had it figured out by chapter 3.
Overlong and overwrought. Pass the No-Doze.
4.Like Lions (Saint Martin's Press, 2019)
By Brian Panowich
Adult Fiction
Small town sheriff Clayton Burroughs has a new baby, an unhappy wife, and an unsavory past. His father headed a notorious crime family. But a rival group of thugs and dead beats is trying to take over, with the sheriff's wife and child in the crosshairs.
This book should've come with a warning label. Brutal and violent, with few redeeming characters. Not exactly a poster child for the Peach State.
Two Strikes
5.. Espionage in the Divided Stuart Dynasty (Pen & Sword, 2020)
By Julian Whitehead
Non-Fiction
Throwin' this extra in for free.
This prodigious historical tome spans thirty years and chronicles the epic struggle between two religious factions – Catholics and Anglicans – and its consequences for England and the throne.
The text includes a head-spinning chronology of names, dates, places and the crucial role that accurate, timely intelligence played in all of the above. Readers are also introduced to a vast and complex array of characters.
Thoroughly documented and meticulously researched, Espionage isn't for the faint-hearted. Casual readers unfamiliar with English history, the monarchy, or government may get lost in the dense forest of 17th century England. Some will find it as dry as the Atacama Desert. Serious history lovers will enjoy the journey. If that's not you, you'll probably want to grab another bat.
Home Runs!
1.The Enemy Between Us (Covenant Communications, 2020)
By Melinda Sue Sanchez
Historical Romance
Set in Sicily during WWII, this historical romance is a powerful story of forbidden love, betrayal, loss, courage, and hope. It also opens a unique window into an oft-overlooked slice of the war and the Italian resistance.
The writing is top-notch, with memorable characters. The tightly knit plot keeps readers on the edge of their seat. With superb descriptions and expert pacing, An Enemy Between Us also shows that when heaven and hell are "scrambled together," sometimes keeping your humanity is the only way to defeat evil, especially when it's staring you in the face.
Al Capone Does My Shirts (G.P. Putnam Son's, 2004)
By Gennifer Choldenko
Juvenile Fiction
This is the brisk, clever story of what happens when "Moose" and his family move to Alcatraz Island so his father can work as a guard and his sister, Natalie, can attend a special school. Set in 1935.
Beautifully written, with just the right balance of drama and humor. So much more than cement and guard towers! A well-deserved Newbery Honor book.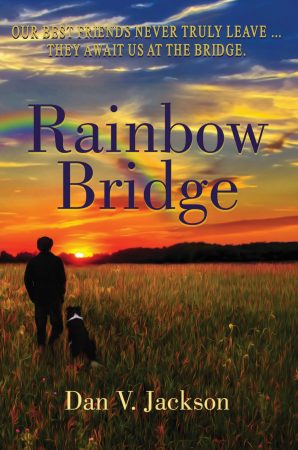 Rainbow Bridge (Mirador, 2020)By Dan V. Jackson
Mom: I can't put into words how much I loved this book. How much I didn't want it to end. How I really, really ought to buy stock in Kleenex.
Check out my full review: Why 'Rainbow Bridge' Will Melt Your Heart.
4. Unveiling the Past (Waterbrook & Multnomah, 2020)
By Kim Vogel Sawyer
Romance/Women's Fiction
A skillful blend of an edge-of-the-seat whodunit, a clean romance, and a family in search of ties, Unveiling grabs the reader by the throat in chapter 1 and doesn't let go until the final page.
Besides developing a strong, engaging plot and solid, well-rounded characters, the author has a keen eye for family tensions and dynamics that are chronicled realistically. The story spans three decades but the timeline is clearly labeled so readers don't get lost. And yes, stubbornness can indeed be "determination on steroids." Additionally, the author's descriptions are so rich and vibrant, you can almost feel the prickly summer heat and dank humidity of summer in Arkansas.
Clever and inspiring, this story of loss, betrayal, forgiveness and reconciliation is built on a firm faith foundation without being preachy. It's a delicious read.
5. Subversive(One Foundation Publishing, 2020. Book 1 of the Subversive trilogy.)
By Raena Rood
Speculative Fiction
This high-octane thriller takes place in a society where the First Amendment is a cobwebbed relic of the past. Churches are shut down. Bibles are illegal. Worship is in secret.
It's a society where anyone who takes their faith seriously is treated like a disease.
Twenty one year-old Gemma Alcott is hiding out in an old mine with other believers after losing her devout parents to a raid on their clandestine basement church by the dreaded Federal Task Force.
The love of her life, Taylor Nolan, has turned his back on his faith heritage after his mother died when he was a child. He's now a sergeant with the notorious, vicious Task Force. Their primary mission is to hunt down and round up "subversives" – Christians who take their faith seriously.
What happens when Gemma and Taylor stumble upon each other unexpectedly and both are detained by the Task Force?
This highly engaging cautionary tale may not be quite as fictional as some would like to think. Read it cover-to-cover in one sitting.
***
What are some of your summer hits and misses? Oh yeah. You gonna eat that? Askin' for a friend.
XXOO,
Kimber