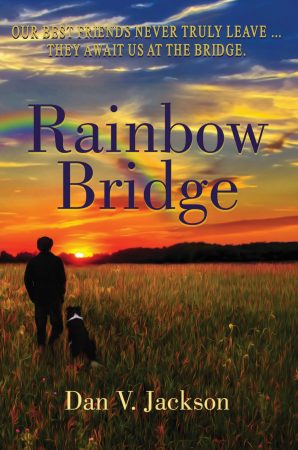 By Dan V. Jackson
I can't put into words how much I loved this book. How much I didn't want it to end. How I really, really ought to buy stock in Kleenex.
For example, when I'm getting ready to write a book review, I typically take notes throughout the book. I started doing that with Rainbow Bridge. Then I stopped. The story took over. It resonated so deeply, in fact, I couldn't read it and take notes at the same time. So I put my notes away and immersed myself in this extraordinarily powerful and poignant story.
I read it cover to cover in one sitting.
Rainbow Bridge traces the love, losses and life of Nathan Wilkinson from toddlerhood into adulthood through the lives of his dogs: Frisco the border-beagle. Shiloh the German shepherd. Lindsay the mini schnauzer. Georgie the Belgian Malinois and military war dog. Labs Zooey and Boomer. Each dog has a distinct personality but evinces the kind of steadfast devotion to Nathan and his family as only dogs can.
I cried along with Nathan and his family over the loss of their loyal, ailing Shiloh. Applauded the steely resolve and dauntless courage of war dog General George S. Patton (Georgie for short). Laughed over the jealous affection of Lindsay and the crazy antics of Boomer and Zooey. And sniffled through the self-sacrificing love of Frisco, a heroic border-beagle mix with sparkly eyes.
Setting and Structure
Set mostly in Arizona and spanning some 30 years, Rainbow Bridge is sensitive and superlative writing at its finest. The plot is Rock of Gibraltar solid. The writing is warm and robust. The characters are people we know and might invite over for coffee. The structure is alert and brisk, tucking in the tail of every character and story arc into a satisfying and heartfelt ending.
Loud and Clear
Coming through loud and clear throughout the pages of Rainbow Bridge is how well the author knows dogs. How thoroughly he understands the unique and special bond that is forged between dogs and their humans. How the excruciating pain of losing a dog is like no other. Ditto how important it is to not abandon your dog to the vet when it's time for them to leave you, and that you really do owe it to your faithful companion to be there and comfort them in their final moments.
With great insight and sagacity, the author also shows us how dogs are indeed "more than just animals wandering through your house; they really and truly are members of your family. And they really do love you more than anything else, even themselves."
The story is also saturated with generous doses of hope and redemption (Hi, Larry).
Propelled by the remarkable, limitless love and loyalty unique to canines, Rainbow Bridge will melt your heart, resonating deeply with anyone who has ever known the love of a good dog. It may also open a window into how your devoted dog sees you – and why. And how much we owe them.
Just hand me another tissue, okay?
#RainbowBridge
#NetGalley