Happy Saint Patrick's Day!
According to family lore, one of us has roots in Ireland. So on this Saint Patrick's Day we're highlighting books worth reading that are set in and around the fabled Emerald Isle.  
Now, if you Google "Books set in Ireland" or something similar, you'll find a veritable pot o'gold at the end of the proverbial bibliophile rainbow. But we're only highlighting books we've actually read. And that's no blarney. (Incidentally, we're not really big fans of James Joyce. In case you're wondering. So don't look for Ulysses on this list, okay?)
Here are 10 Worthy Reads Set in and Around Ireland, just in time for your Saint Patrick's Day! How many have you read?
1.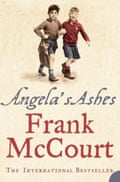 A masterful memoir of Frank McCourt's childhood in Ireland.
Frank's mother, Angela, has no money to feed the children since Frank's father, Malachy, rarely works, and when he does he drinks his wages. Yet Malachy—exasperating, irresponsible, and beguiling—does nurture in Frank an appetite for the one thing he can provide: a story. Frank lives for his father's tales of Cuchulain, who saved Ireland, and of the Angel on the Seventh Step, who brings his mother babies.
A Pulitzer Prize winner.
2.
By Brock and Bodie Thoene

Dateline: Ireland, 1830s. English landlords hold power over Irish tenant farmers and seeds of bitterness are ssown that would last for generations.

In an endeavor to eliminate all influences of Irish heritage, the English force an intellectual and spiritual bondage on Ireland as well as a bitter physical bondage of servitude. Freedom has become so rare that the Irish coined a saying, "In Ireland only the rivers run free."
Yet one poor, befuddled old woman speaks of freedom, truth, and hope. Mad Molly Fahey promises the priest and villages that a miracle is on its way.
3.
By Brock and Bodie Thoene
(Book 4 of The Galway Chronicles)

Western Ireland's potato crop was the best it had been in October 1844. But by the next year, the Irish would see the potato blight destroy the crops and thousands will die of starvation.
Soon a great migration to America would begin as the hopelessness of the situation finally sinks in. In this fourth and final book of the Galway Chronicles, the story of Kate, Joseph, and the inhabitants of the village of Ballyknockanor continues with Joseph's dramatic return to his estate and the beginning of the terrible years of the Irish potato famine.
4. 
By Alexandra Ripley

The book picks up where Gone With The Wind Leaves Off. Heartsick after Rhett walks out,  Scarlett eventually heads to Ireland and is heartily welcomed by her Irish kin. There she finds an old house called 'Ballyhara'; it was O'Hara land long ago before the English seized it. Scarlett soon receives a notification of divorce from Rhett. She makes plans to leave for America but learns that Rhett is now married to Anne Hampton, who is said to resemble Melanie Wilkes.
Heartbroken, Scarlett decides to remain in Ireland. She leaves part of Tara to her son Wade Hampton (fathered by her first husband, Charles Hamilton), buys Ballyhara and settles down in Ireland, to her Irish family's delight. But then… Oh, wait. You'll have to read the book to find out what happens next.
5. 
By Michael Scott

Tales and legends that range from the misty dawn of Gaelic history and the triumph of St. Patrick to the Ireland of the present day – tales as beautiful, mystical, and enchanting as the ancient land itself.
6.
By Seamus O'Conaill and Daniele Archimede
A heartwarming tale about an unlikely friendship between a spider and a leprechaun. The delightful story follows Spuds the leprechaun and his disdain for spiders. 
7.
By Eve Bunting and Zachary Pullen

Finn McCool is the largest giant in all of Ireland. He's a fierce warrior, even beating the giant Culcullan and saving Ireland from the Scots. Helpful and kind, he helps the farmers bring in the hay. "He's the best-hearted man that ever walked on Ireland's green grass."
But for all his strength, courage, and goodness, there's one thing that Finn lacks. He's just not smart. And he knows it. When a wise man living in a nearby village tells Finn about a magical red salmon with the wisdom of the world, Finn sets out to catch the fish. He learns a thing or two about himself in the process.
8.
By W.B. Yeats, edited by Seamus Heaney.

Introduced by Seamus Heaney, this collection of Yeats's best poems provides insights into the work and readers' reactions. If you're interested in William Butler Yeats's work, check it out.
9.
By Michael Diggin

A collection of 300 contemporary images of the natural beauties of Ireland, covering every one of the 32 counties. The photographs are taken by two of the country's leading landscape photographers, Peter Zoller and Michael Diggin.
10.
By Ned Bustard
This little book introduces young readers to the life and work of the Patron Saint of Ireland.
Brief, bite-sized sentences take readers on a nimble journey through Patrick's life, beginning with his birth in old Britain. How he's stolen from his parents and winds up in the wild and pagan country of Ireland as a slave. Working as a shepherd, Patrick discovers God's grace and turns to Christ.
Even if you've heard about the legend of Saint Patrick for years, there's something endearing and uplifting about the simplicity of this book and the simple and conversational writing style. It's like nestling into grandma or grandpa's lap and hearing them tell you the story over a hot cuppa.
Do you have a favorite book set in or around Ireland? Holler in the Comments!